140 Q Cell panels – 55 kilowatt direct current
To utilize some accessible property & capitalize on the financial benefits of on-site energy production, a rural business owner near Detroit Lakes, Minnesota, decided to set up a ground-mounted commercial solar project.  We will demonstrate the production value and financial advantages of the project, which went online in October 2021.
Project Details
140 Q Cell panels – 55-kilowatt direct current
5 Solar Edge 7600-watt inverters – 38 kilowatt alternating current power.
Panels occupy 8,250 square feet or .189 acres
Panels installed at the optimal angle of 35 degrees and 180 degrees directly to the south.
Time to interconnection 4 months
Project Cost, Incentives, & Expected Output
Project Cost – $142,500. Includes engineering, permits, parts, labor, interconnection & utility fees.
Investment Tax Credit Value – $31,980. Recovered year 1
Depreciation Tax Value – $40,590. (Based on 30% tax bracket) Recovered year 1
Grant Money – $19,500
Total invested after incentives – $50,430
Anticipated year 1 production – 68,500 kWh
Project Production and Anticipated Payback
Actual 1 year production – 73,330 kWh (it was a very good year)
Price of kWh year 1 – $0.117 /kWh
Financial Value of year 1 production – $8,575
30-year production current pace – 2,017,842 kWh after factoring in panel degradation
Value of 30 years of production current – $236,087. not adjusted for energy escalation
Years until even – 5.33 years. Owner will recover initial investment in year 5, positive cashflow
Internal Rate of Return – 12.33%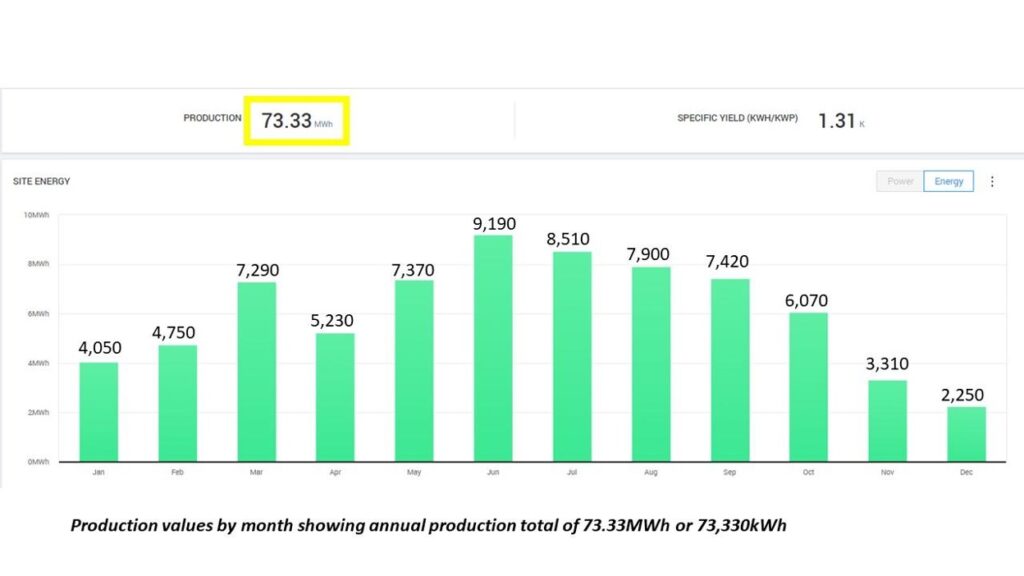 The project outperformed expectations in terms of production by 4,830 kWh or $565.11 in its first year.  
Our expectation is that this project will produce closer to original projections in future years which may push the actual payback to 5 years and 10 months instead of the pace now which is 5 years and 4 months.  2022 was a very good year for solar production.  
"We could not be happier with the outcomes of the solar so far, not only is the solar providing all of our energy needs, but we are also receiving checks from the utility," the project owner is quoted as saying.
This is another great example of utilizing the land to create a new revenue stream while offsetting your electric bill.