Are you replacing a roof that already has solar panels on it?
iSolar offers Solar System Detach and Reset services in Minnesota to help with your roof replacement!
2 week guarantee for detach and 2 week guarantee for resetting panels!
New 5-year labor warranty by iSolar starting the day of project completion!
3 business day guarantee for written quotes for insurance purposes!
No more waiting on solar companies for roofs to be replaced!!!
Contact us today to discuss your project. We promise to reply promptly 🙂
When your shingles are damaged from a weather event or have deteriorated to a level of needing replacement, we can help you safely get your solar panels taken down and reinstalled. We prioritize making sure everything is properly working & the least amount of downtime, so you are producing as much energy as possible.
How It Works: Detach and Reset Your Solar Panels During Roof Replacement
Here's how a typical solar panel detach and reset project will go working with iSolar …
We get access to your monitoring platform, Enphase, SolarEdge or other to see if everything is performing properly according to the data being recorded. Clear any errors.
We come to your home to complete a visual inspection. For most jobs we can use everything aside from the roof mounts. Some of the small parts like panel clamps, bolts, connectors will need to be replaced which we don't necessarily know until the day of taking your system down.
We will consult with you on any issues discovered in our assessment then provide solutions… Most of the time we find that the systems are in good condition, operating as expected, and we are 100% confident that it will continue to perform up to this expectation after the reinstallation.
Schedule a time with your roofing contractor to get your panels removed. If you don't have a roofing contractor, we recommend our sister company, Three Rivers Contracting 3riversmn.com. We will remove panels as close a possible to the day of roof replacement and then get them back on ASAP following the roof replacement. This minimizes your down time and loss of production during your roof project.
iSolar will safely take system off your home/business, store the parts on site, then come back and reinstall after your roof replacement is completed.
iSolar will re-energize system and verify your solar panels are working properly and achieving expected power output.
iSolar will meet with inspector to verify your energy system is up to current code standards.
Recent Removal & Reinstall Projects
Here are some photos from recent projects we completed in Minnesota where customers needed their solar panels taken off and reattached during their roof replacement.
Our solar boom lift used to remove the panels: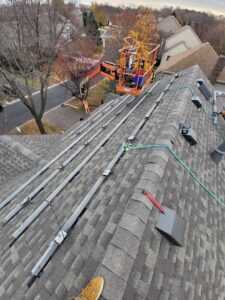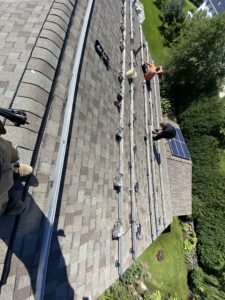 And here is an in progress install where we are securing electrical and new underlayment: